Shipping & Returns

All custom lenses (any lens option besides the default variant, including all Sundrop lenses, with or without prescription) are returnable only for store credit. Frames are returnable for a full refund. All returns must be requested in 7 days from receipt.

Free shipping and return shipping are included on all US frame orders. International orders are all final sale and cannot be returned. A 1-year warranty is included on all frames and lenses worldwide.
Description

Get the best of both worlds with the Lucyd Jupiter Smart Glasses from the Lyte 2.0 collection. Perfectly combining timeless eyewear design with cutting-edge technology, these glasses offer immersive four-speaker audio, intuitive touch controls, and 12 hours of music and calls per charge.
Dimensions

For men and women with wide heads.
Frame Width: 151 mm
Lens Width: 62 mm
Bridge: 14 mm
Temple Length: 150 mm
Community Impact

Feel good about your eyewear upgrade with Lucyd's commitment to social equity. For every frame we ship, we donate a pair of sun or reading glasses to the Miami Rescue Mission, a charity for disadvantaged people in South Florida.
We also offer a carbon neutral manufacturing and shipping option with Ecocart.
We provide a discount for students, US uniformed services, health and education workers. Just reach out to us in the live chat or by email.
Powered with ChatGPT
THE MOST POWERFUL ALL-IN-ONE EYEWEAR.

SLIM, SLEEK, STYLISH
The thinner temples add a touch of elegance and modernity to these frames, providing a balanced look for an extraordinary wearing experience.


OPEN EAR AUDIO
Your ears remain open to hear your surroundings, so you can work, bike or drive safely while listening to audio.
SIMPLE TOUCH CONTROLS
Play / Pause Music Volume Control Answer / Hang Up Call Skip Tracks Voice Assistant
ALL DAY BATTERY LIFE
The longest battery life for Smart Eyewear with 12 hours of continuous audio. No one wants to take off their glasses and charge them in the middle of the day, and with Lucyd you don't have to.

ALL DAY BATTERY LIFE
Our frames have the longest battery life of any smart eyewear on the US market, with 12 hours of continuous music or calls per 2-hour charge.
GO BIG OR GO HOME
Our new XL frames offer a fashion-forward, oversized look that's totally on-trend and perfect for making a statement.


ACCOMMODATING FIT & OVERSIZED LOOK
Lyte XL is a new large-size collection for individuals with wider facial structures, or men and women looking for a fashionable oversized look.
ALL ABOUT THE HINGES
Embrace comfort and flexibility with spring hinges. Say goodbye to discomfort and hello to a tailored fit, ensuring that your frames stay put no matter where life takes you.
SPRING HINGES
Self-adjusting spring hinges ensure a comfortable fit that contours to the shape of your face, and improves the durability of the temples overall.

Sound That Takes You Places
We've turned up the volume to bring you improved sound quality that will enhance your audio experience.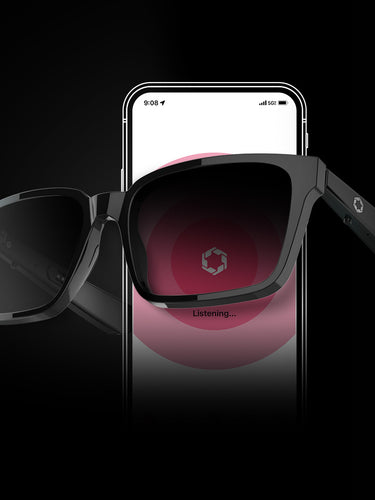 MEET LUCYD APP
CHATGPT ENABLED
This unique experience is powered by the Lucyd app, providing the first-ever voice interface for ChatGPT on wearables.
DOWNLOAD NOW
SEE IT STYLED BY OUR COMMUNITY
Share your photo here or mention us on Instagram to be featured










Shop Lucyd
Lucyd Eyewear offers a wide range of styles and unbeatable value in the Smart Eyewear Category.